Nosy Be Panther Chameleon For Sale
This adorable little Nosy Be Panther Chameleon For Sale is the offspring of Fernando x Twinkle Skins.  He is going to be ready for his new home at the beginning of September.  He seems to have one of the best personalities out of this clutch.  This little guy isn't showing his colors yet, but with his pedigree we can only imagine the amazing baby blues that will start to show as he grows up.
Sire:
Dam's Sire: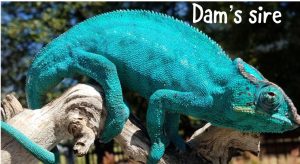 We have a few other Nosy Be panther chameleon for sale as well from this same clutch.  Please send us a message if you are interested in a Nosy Be panther chameleon for sale. 316-755-5611
Shipping Information:
This beautiful boy won't be ready to ship until the beginning of September.  We ship on Mondays, Tuesdays, and Wednesdays.  We utilize Fedex Priority Overnight Shipping which means your chameleon will arrive the very next morning.  Your chameleon will be shipped in an insulated and very well packaged box that ensures your chameleon will arrive to their new home safely.  Depending on the weather we also utilize heat packs and cold packs when necessary to make sure your chameleon is kept at a comfortable temperature for their journey. We will always contact you to confirm shipping before we ship any chameleon.  You will need to be available to sign for your chameleon or we will have them shipped to your closest Fedex Hub for pickup.  We drop your chameleon off at our local Fedex Hub at approximately 8:30pm and your chameleon will arrive at your location by 10:30am the following morning.  Some extremely rural areas may not have their chameleon arrive until 12:30.